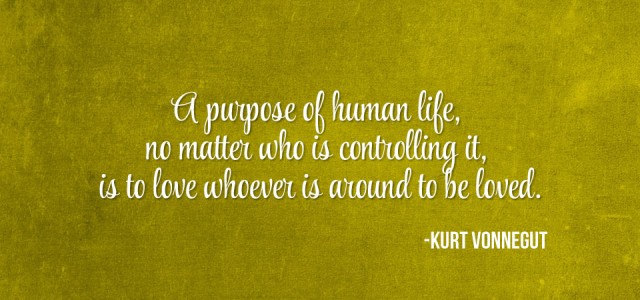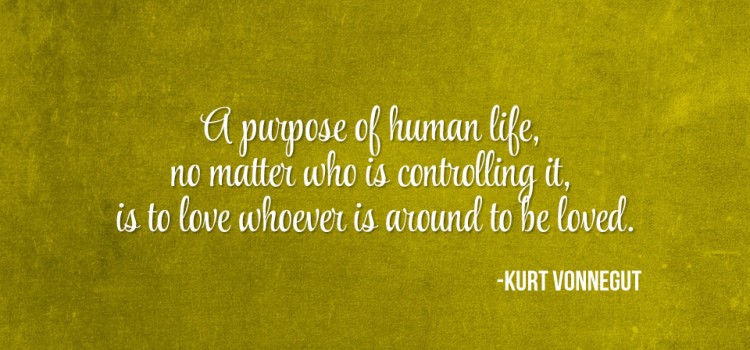 A purpose of human life, no matter who is controlling it, is to love whoever is around to be loved.
-Kurt Vonnegut
Kurt Vonnegut (November 11 1922- April 11 2007) was one of the popular American novelists with an unusual writing style of long sentences and little punctuation. His fame as a novelist and essayist reached maximum heights during the period between 1958 and 1980 and, some of this popular works include Cat's Cradle, Breakfast of Champions, Slaughterhouse-Five, The Sirens of Titan, Mother Night, Bluebeard, Welcome to the Monkey House, Player Piano, Timequake and many more. His satirical literary style is hugely popular and it is unfair not to mention about the science fiction elements in his works as well.
After having completed his studies at Cornell University, Kurt joined US army and later, he was captured and became a prisoner of the war known as Battle of the Bulge. Soon after his return from the World War II, he married Jane Marie Cox and this couple had three children. They got separated in 1970 and he married another woman known as Jill Krementz. It can be said without an iota of doubt that all his works clearly reflected his humanist point of view in the best possible manner.
Though he was born and brought up in an upper middle class Indianapolis family, his family fortunes began to slide during his teen years and his personal experience of being taken as a prisoner in the Second World War played an important role in shaping up his outlook towards life. His mother's suicide also influenced his outlook and he always had a lifelong difficulty while dealing with women. This man was a genuine humanist and Kurt Vonnegut always tried to tackle the basic questions about human existence like if there is a presiding figure like God to make sense of all activities in this world, why does he wish people well despite making people suffer? The main weapon for him to tackle all these basic questions was humor.
One of his famous quotes, "A purpose of human life, no matter who is controlling it, is to love whoever is around to be loved", clearly reflects his humanistic attitude and he was also concerned about the destruction of the environment. According to Kurt Vonnegut, the only redemption for the meaningless of existence was human kindness and he always wanted the God to be a bit more kind to the human beings. That is why he showed great compassion towards people around him and some of his deeds like adopting sister's children clearly reassert his humanistic attitude without a shadow doubt.