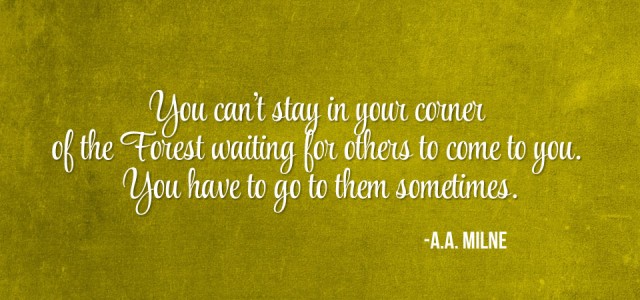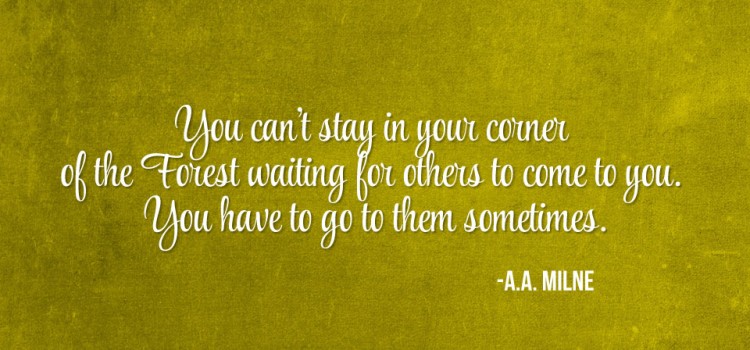 You can't stay in your corner of the Forest waiting for others to come to you. You have to go to them sometimes.
– A.A. Milne (Winnie the Pooh)
Alan Alexander Milne was a renowned English writer for books and children poems. In one of his books, the famous Winnie-the-Pooh, A.A Milne quoted that, "You can't stay in your corner of the Forest waiting for others to come to you. You have to go to them sometimes." This means that in life, it's often easy to keep on doing the things we are used to and not step out to try out some new things. It's only after we try something new outside our normal routine that we come to discover our hidden abilities.
Interestingly, the life of A.A Milne was a true reflection of this quote. Born on 18 January 1882 in Hampstead, London, he went to a small public school called Henley House School that was ran by his father, Vince Milne. Milne later attended Westminister School and Trinity College, Cambridge. Despite the fact that A.A Milne had attended the college on a mathematics scholarship, he was determined to try out something new- writing and editing. He was involved in editing and writing of Granta, the school's magazine together with Kenneth, his brother, and their articles usually appeared with the initials AKM. His work was so captivating that it caught the attention of Punch, the outstanding British humor magazine at the time. He was later to work as a contributor and an assistant editor for the magazine. He married Dorothy in 1913 and had only one son, Christopher Robin Milne, born in 1920.
His star was already shining but for A.A Milne, this was not the end of it; he had to try out something new. This is how he found himself serving as an officer in the British Army during the First World War in the Royal Warwickshire Regiment. After an illness, he worked in a different department, the Royal Corps of Signals. Due to his outstanding writing skills, the Military Intelligence recruited him into service with a duty of writing propaganda articles for the MI 7b. This he did from the year 1916 to 1918 at the height of World War I. He left the service the following year and settled in Mallord Street, Chelsea.
He continued writing in the 1920's and wrote many books and poems, including Winnie-the Pooh, published in 1926. In 1934, he wrote Peace with Honor and later wrote War with Honor in 1940. He retired to his country home, Cotchford Farm in 1952 following a brain surgery and stroke. He died in 1956 January at the age of 74.